North Georgia Arbor is owned by Kevin Clegg. He and the rest of the North Georgia Arbor team have been putting Safety first for over 15-years.
The North Georgia Arbor team are experts at removing trees in tough places, so the size, number, or location is not an issue. No matter how tight the spot, they will safely and efficiently remove the tree in question. The North Georgia Arbor team consists of expert riggers and climbers that will methodically plan the tree removal. The team meticulously plans every cut and drop, before any activity commences. Everyone's safety is our priority. The time spent planning also helps to protect nearby trees. They go to great lengths to have the least amount of impact on your yard. Our goal is to return your landscape to look the same or better than before any work.
North Georgia Arbor has a $5,000,000 general liability policy covering our services, so you can rest assured that if in the unlikely case of an accident you and your property will be covered. However, we believe that our best insurance is employee training and on-site job plans. We meticulously plan every cut, every drop and every step that we are going to take. Careful planning has helped keep our entire crew safe and our customers happy.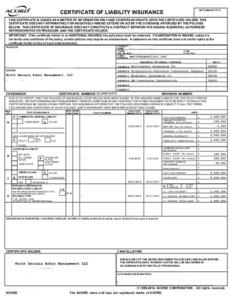 In addition to being thoughtful about their approach to pruning or removing your trees, North Georgia Arbor is known for spikeless tree pruning that protects trees from damage. You can also turn to them for a variety of tree care services, including:
Tree removal:
Safely remove damaged or diseased trees while also keeping your healthy trees out of harm's way.
Tree pruning and trimming:
Schedule tree-pruning to maintain your trees' health and extend their lifespan.
Commercial tree services:
North Georgia Arbor has a top-rated arborist on staff and we serve businesses, homeowner associations, office parks, hotels, schools, and business parks with a full range of tree care and emergency services.
Residential tree services:
North Georgia Arbor has a top-rated arborist on staff and we serve homeowners across Metro Atlanta and North Georgia with a full range of tree care and emergency services.
Tree cabling and bracing:
Sometimes trees grow in ways that will eventually promote disease and decay, and we have several solutions to revitalize and prolong a trees life.
Storm damage and debris removal:
Has the aftermath of a bad storm left your property littered with tree and storm debris. Our team will clean up and haul off all debris to leave you with your property cleaned and revitalized.
Underbrush cleanup:
Has your property become overgrown with tall grass, weeds, vines, small trees, kudzu, and other underbrush? We will mow down everything in the specified area, and we can haul off all debris to leave you with your property cleaned and revitalized.
Land and lot clearing:
If you need complete or partial tree and underbrush removal for any site prep or lot clearing.
Retention pond cleaning:
Has your retention pond become overgrown with tall grass, weeds, vines, small trees, and other underbrush? We will clear out your retention pond and haul off all of the debris, and leave you with your retention pond cleaned and revitalized.
Growth control:
We expertly apply growth enhancer or inhibitor chemicals that can limiting or expedite tree and shrub growth for better long-term health.
Annual tree services:
Let North Georgia Arbor take all of the worry out of your property's trees and shrub health. We have several annual maintenance plans that can be customized to meet your exact needs.
Stump removal & grinding:
We work with several stump grinding partners that provide fast and affordable services. We will make sure that any tree stump that you choose will be expertly removed so it's no longer an eyesore or a potential safety hazard on your property.
We have state-of-the-art equipment, including dump trucks, chippers, and cranes. While we prefer to climb a tree, there are times when we will use a crane to complete the job if a tree is unsafe to climb. Complete the contact form today for a no obligation service estimate.
Great experience with Kevin and crew!
Awesome team of guys. Kevin is very knowledgeable and professional. Best tree service I've hired and I've worked with several companies. He will be getting all of our business from now on! Does great work on big dangerous trees or smaller jobs. Used on multiple properties. Highly recommended to family/friends or anybody. 5 stars!
Great company to work with. Very reasonable on price compared to other companies I had come out to give me quotes. I highly recommend.
Had Kevin come out today and take out 19 Leyland Cypress trees. Very professional group of guys. They were in and out with all the clean up complete in about 8 hours including a lunch break. I couldn't be happier with the job and the outcome. I definitely would recommend this group.
Clay, Dean and their crew did a fabulous job for us. Very difficult landscape to work with but did everything we asked. Dean was amazing with his free climbing and taking care of trees. Would highly recommend.
If you're looking for top notch professional tree service then Kevin, Brett, and their team (Clay & Dean) are the ones for you! They cut down a 65ft red oak for us, removed a large fallen red oak from our yard, and trimmed up several of our other trees. They have the knowledge, skill set, and equipment to do the job and we couldn't be more pleased with the results.
These are some of the kindest men I've ever met. Our cat was stuck about 70 feet up in a tree in our backyard, and Kevin sent Dean and Mario from a paid job to come rescue our baby for free. I will never forget it. We are forever grateful to them! 💛
Kevin and his crew took down a huge tulip poplar right next to the house for me (was dropping huge branches, was hollow up top.) Also had a bunch of stumps leftover by the previous homeowner. They were fast, professional and cleaned up after themselves.
great working with Kevin. after agreeing he had his crew out the very next day and took 20min to bring down my tree and haul it away. stellar work! highly recommend