North Georgia Arbor provides every customer a written estimate that clearly explain what will be done, when it will be completed and what it will cost. We will only complete the services that you approve on the estimate, so you can be assured that you will not be surprised by unexpected charges.
We work closely with many of the Metro Atlanta's cities and counties, and we take care of the required city or county tree ordinance permitting. This way you can rest assured that you will not incur any unwanted fines for not complying with your local and/or county tree ordinances.
No one likes surprises, and we work hard to make sure that every job is well planned and thought out prior to any work being done. If there is the potential for any unforeseen issue, we will make sure to inform you immediately. In the end, we believe a well-informed client will become a happy client once the job has been completed.
Great experience with Kevin and crew!
Awesome team of guys. Kevin is very knowledgeable and professional. Best tree service I've hired and I've worked with several companies. He will be getting all of our business from now on! Does great work on big dangerous trees or smaller jobs. Used on multiple properties. Highly recommended to family/friends or anybody. 5 stars!
Great company to work with. Very reasonable on price compared to other companies I had come out to give me quotes. I highly recommend.
Had Kevin come out today and take out 19 Leyland Cypress trees. Very professional group of guys. They were in and out with all the clean up complete in about 8 hours including a lunch break. I couldn't be happier with the job and the outcome. I definitely would recommend this group.
Clay, Dean and their crew did a fabulous job for us. Very difficult landscape to work with but did everything we asked. Dean was amazing with his free climbing and taking care of trees. Would highly recommend.
If you're looking for top notch professional tree service then Kevin, Brett, and their team (Clay & Dean) are the ones for you! They cut down a 65ft red oak for us, removed a large fallen red oak from our yard, and trimmed up several of our other trees. They have the knowledge, skill set, and equipment to do the job and we couldn't be more pleased with the results.
These are some of the kindest men I've ever met. Our cat was stuck about 70 feet up in a tree in our backyard, and Kevin sent Dean and Mario from a paid job to come rescue our baby for free. I will never forget it. We are forever grateful to them! 💛
Kevin and his crew took down a huge tulip poplar right next to the house for me (was dropping huge branches, was hollow up top.) Also had a bunch of stumps leftover by the previous homeowner. They were fast, professional and cleaned up after themselves.
great working with Kevin. after agreeing he had his crew out the very next day and took 20min to bring down my tree and haul it away. stellar work! highly recommend
Cobb
Cherokee
Dawson
DeKalb
Forsyth
Fulton
Gwinnett
Hall
Alpharetta
Atlanta
Johns Creek
Marietta
Milton
Norcross
Roswell
Sandy Springs
Suwanee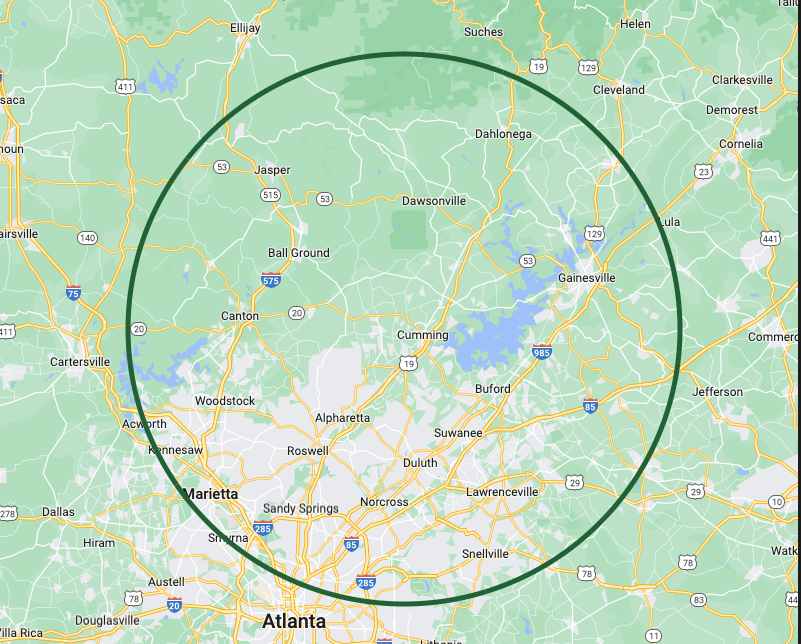 We provide fast and expert tree services to the following cities and counties in the Metro Atlanta area. Even if your location is listed below, please give us a call because we likely do service your area.